Back to Recipes
Authentic Italian Margherita
Traditional Italian margherita pizza has a thin and fluffy base, rich tangy sauce, slices of mozzarella and a sprinkle of basil to complete il Tricolore.
Just remember to keep adding more oil between pizzas so they don't get stuck. If you're pushed for time feel free to buy readymade dough and sauce to speed things up, you'll still get great pizzas.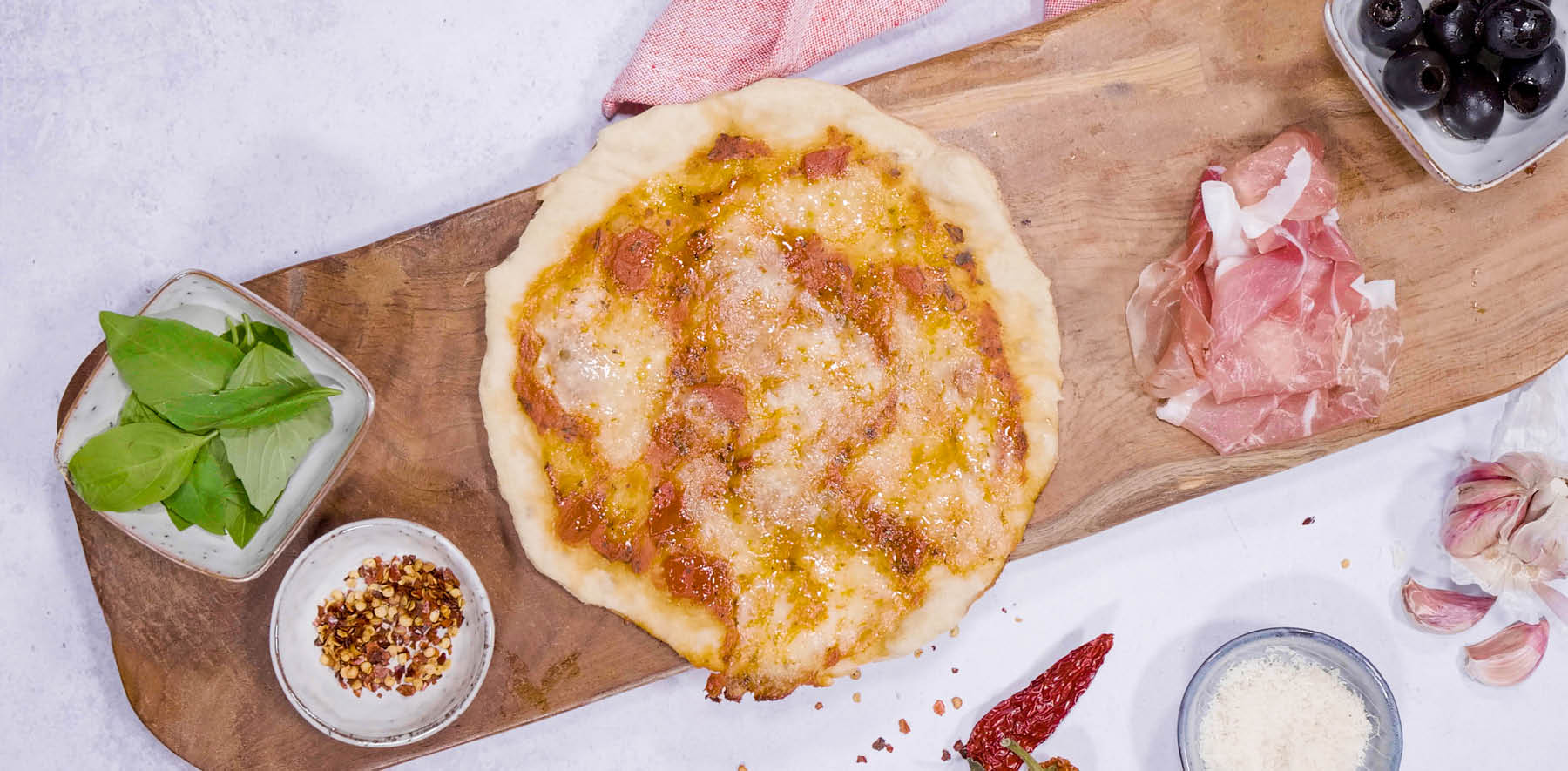 Ingredients
For the dough:
2 tbsp olive or cooking oil
500g '00' Flour (or white bread flour)
1 tsp salt
1 x 7g dried yeast packet
1 tbsp caster sugar
For the sauce:
1 x 400g can chopped tomatoes
3 tbsp tomato purée
1 garlic clove, peeled
1 tsp onion granules
2 tsp oregano
1 tbsp soy sauce
1 tbsp Worcestershire sauce
2 tbsp olive oil
For the toppings:
2 tbsp olive oil
3 mozzarella balls, drained and thinly sliced
1 bag fresh basil leaves
Suitable for: CleverChef
The Method
To make your pizza dough, add 325ml warm water to a jug and mix in the yeast, sugar and oil and leave to stand for a few minutes.
Sieve the flour in to a large mixing bowl and make a well in the middle, then pour in the water mixture.
Gradually bring flour from the outside in to the water, mixing in the middle and adding a little more flour at a time until everything has combined.
Add the dough to the inner pot, then close the lid and select the BREAD RISE function.
For the sauce, add all the sauce ingredients to a food processor and blitz for ~1 minute until the sauce is smooth.
Take a tennis ball size chunk of dough and roll it out on a clean flour dusted surface until as thin as you like. Use the bottom of the inner pot to measure and cut out a perfect sized pizza base.
Add 2 tbsp olive oil to the inner pot and rotate until the bottom is fully covered with oil, then place the pot back in the Clever Chef.
Add your base followed by the sauce, cheese, and toppings of your choice.
Put the lid on then select the BAKE function, adjust the time to 20 minutes then press START.
When the program has finished press CANCEL and remove the lid. Use a spatula to scoop underneath and remove your pizza. Add more oil every time you make a new pizza.
Download our free recipe app